Facebook Live launched in 2016 and since then more than 3.5 billion broadcasts have been sent from the platform.
Not only that but more than 2 billion people have watched a Facebook Live video. That's more than a quarter of the entire population of the world.
What does this mean? Simple: Facebook Live is a fantastic way to increase social media engagement.
Facebook Live videos also get six times more interactions than regular Facebook videos. So not only will your followers love it, but it also boosts your content in the Facebook algorithm.
Getting started is easy too. All you need is a mobile device — and the right steps of course.
Table of contents
How to use Facebook Live
10 tips for using Facebook Live
Facebook Live video ideas
Frequently asked questions about Facebook Live
How to use Facebook Live
Starting a Facebook Live video differs slightly depending on whether you're using a personal profile or your business page.
Luckily, we're going to show you how to do both below.
How to create a mobile Facebook Live video from your business page
1. Open the Facebook app on your mobile device.
2. Go to your business page and tap Post.
3. Tap Go Live.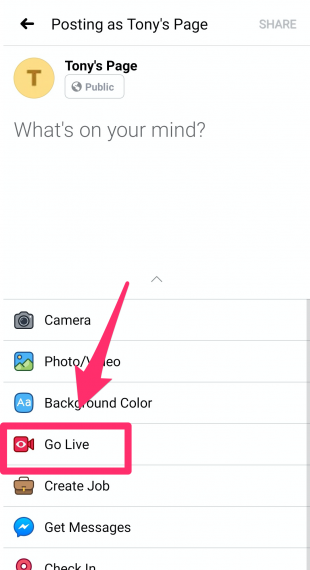 4. Add a description of your video.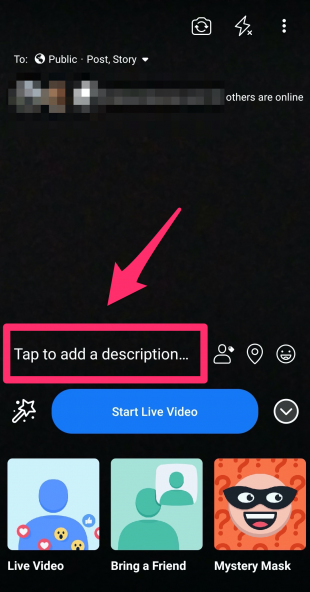 5. Add details: Tap the location icon to tag your location if appropriate and tap the face icon if you want to add more information about what you're doing.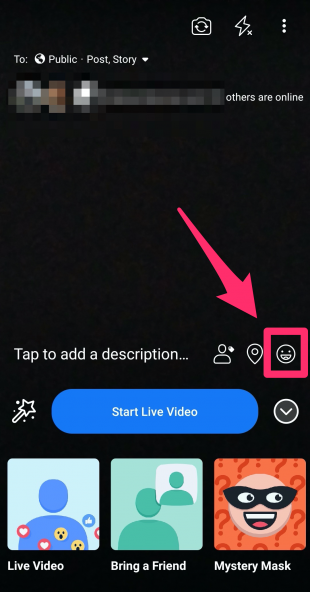 6. Tap the three dots icon on the top right, then tap Audience Restrictions to select the audience for your video.
7. Choose the audience for your video based on age, gender, and location.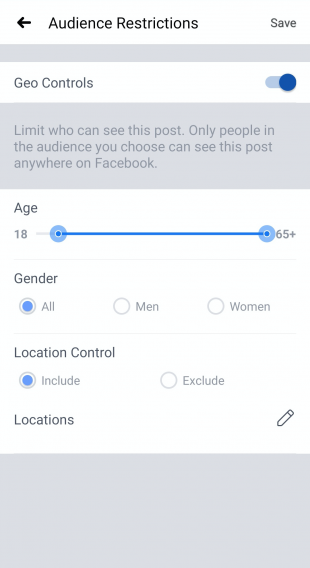 8. Go back and tap Start Live Video.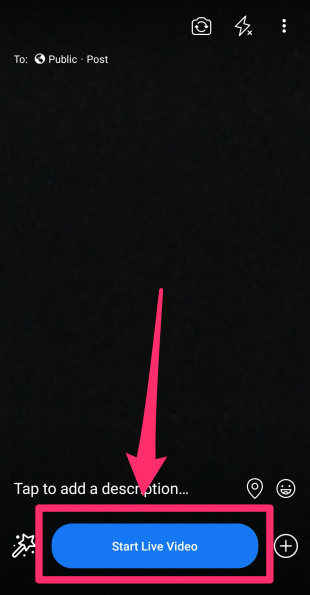 How to create a mobile Facebook Live video from your personal profile
1. Open the Facebook app on your mobile device
2. From your newsfeed, tap Live at the top of the screen. Alternately, you can tap What's on your mind? and then tap Go Live.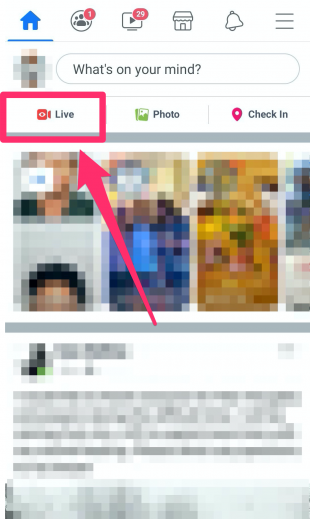 3. Tap the To: field to choose whether to make your video public, visible only to friends, visible in a group, or visible to only a custom list.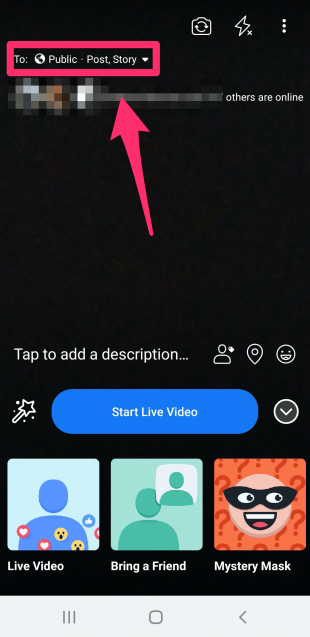 4. From the same screen, choose whether to share your live video as a post, or only to your Facebook story.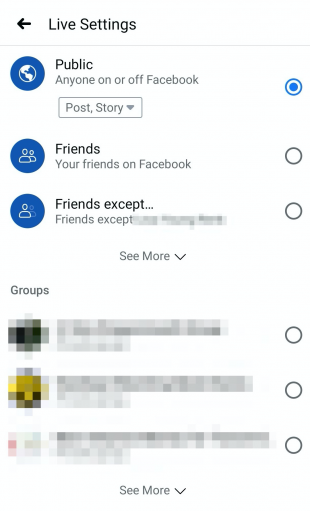 Note: If you choose to share it only to your Story, the video will only be available while you are broadcasting—it will not be saved to your profile.
5. Scroll down to Notifications and make sure the Send Notifications toggle is switched on to notify friends and followers when you go live.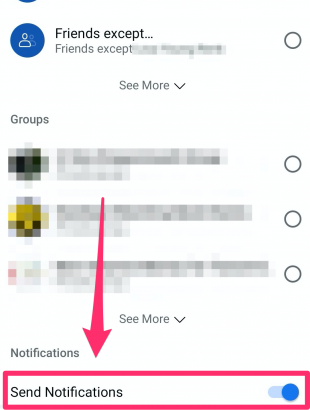 6. Add a description of your video.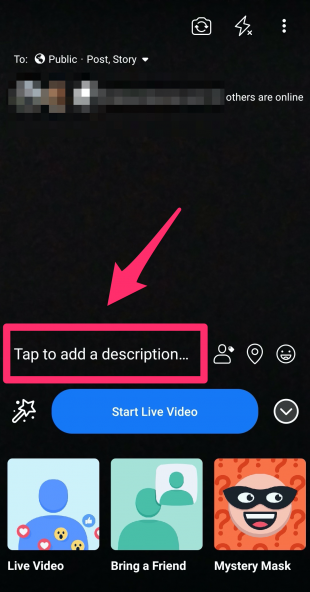 7. Now add details:
Tap the person icon to tag anyone who appears in your video with you.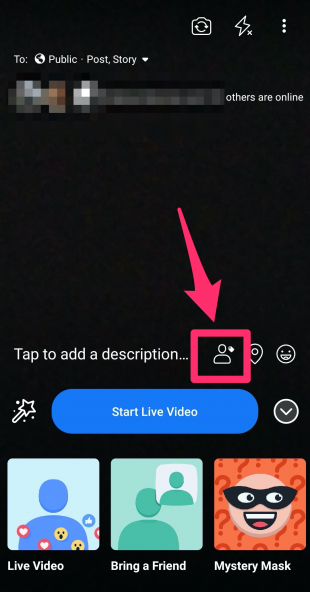 Tap the location icon to add your location if appropriate.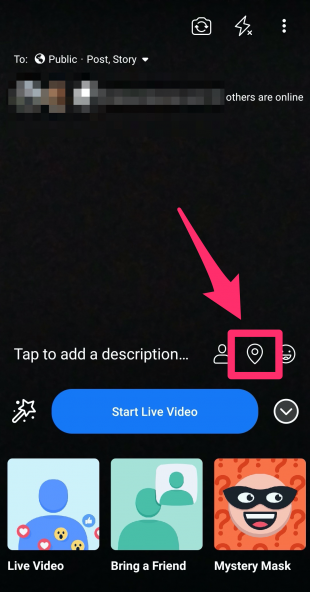 Tap the face icon to add more information about how you're feeling or what activity you're showcasing in your video.
8. Tap Start Live Video to broadcast by yourself or Bring a Friend to broadcast with another person in a different location.
9. Tap Start Live Video.
How to create a Facebook Live video on your computer
1. From the Create post box on your news feed, click the three dots.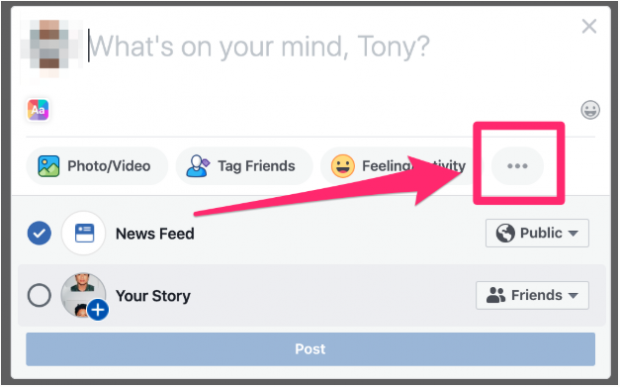 2. Then click on Live Video.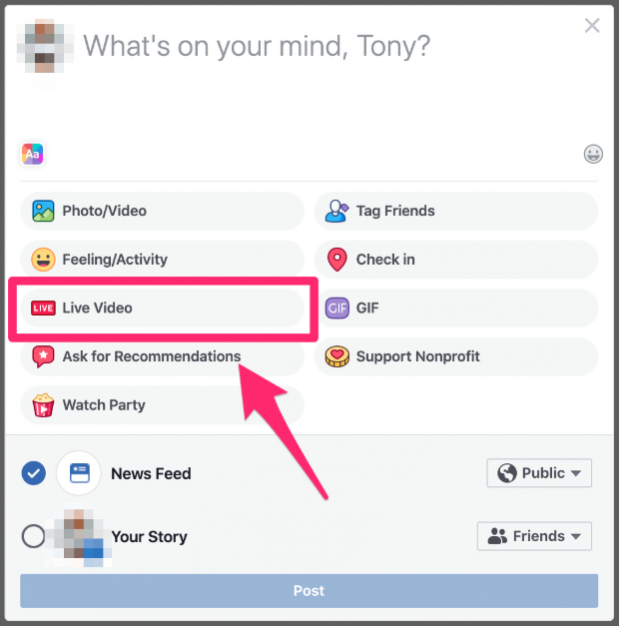 3. Click Camera to use your computer's built-in webcam.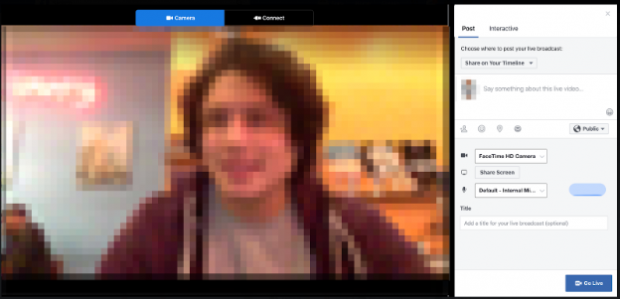 4. Choose where your video will appear and add your description.
5. Add a title for your video.
6. Click Go Live.
During your Facebook Live broadcast, you'll see the number of live viewers, the names of any friends who are tuning in, and a real-time stream of comments. Once you've ended your broadcast, the post will save to your profile or Page like any other video, unless you've selected to share it to your story only.

Live broadcasts can be up to four hours long.
10 tips for using Facebook Live
Now that you know exactly how to go live, here are 10 tips and best practices for you to really get the most out of your streaming experience.
1. Plan your broadcast
As former US President Dwight Eisenhower once said, "Plans are worthless, but planning is essential."
Broadcasting live means you can't predict what's going to happen. But that doesn't mean you should just wing it.
Like any type of content online, a Facebook Live broadcast should have a purpose.
Before you begin Facebook streaming, take some time to think about what your broadcast is about, what you want to say (or do) in it, and why it makes sense as a Facebook Live stream as opposed to some other format of content.
Prepare a list of talking points to have on hand. You may never need them, but they can save your broadcast if you suddenly freeze once the camera's on, or if you hit a lull in your conversation with a guest.
2. Be yourself
While viewers expect social video to be polished, audiences often enjoy the opposite in Facebook Live video.
Production value tends to be less professional and more raw, which many viewers perceive as more authentic.
"With so much competing noise on social, content can often come across as an advertisement," said Hootsuite's social media marketing manager, Amanda Wood. "Facebook Live gives insight into the brand personality and culture."
"The appeal of Facebook Live is its unedited and raw nature," adds Hootsuite's former social media marketing coordinator, Christine Colling. "Your audience is much more forgiving here."
3. Notify followers in advance
Let people know about your live stream in advance with teaser posts on Facebook and other networks.
Facebook says letting your audience know about your live stream in advance "builds anticipation." Be sure to also ask viewers to subscribe to Live notifications so they will always know when you go live. All they have to do is click the Follow button at the bottom of your Facebook Live video.
4. Check your Internet connection and equipment
It's important to make sure you have a strong signal before you begin broadcasting. While WiFi is ideal, if it's unavailable, a 4G connection works well.
You should also check your equipment in advance. Try setting your Facebook Live audience to Only Me to preview how well your lighting and sound equipment is working before sharing the video with your fans.
On that note, while you can go live with nothing more than your mobile phone or computer, the Hootsuite team recommends the following equipment:
External microphones, especially for interviews. If you're alone, you can use the built-in microphone on your earbuds.
A tripod to ensure a steady shot. If you don't have one, you can simply prop your device up against some books or a wall.
5. Write a compelling description of your video
Your description tells people what your video is about. A good one captures the audience's attention and a bad one—or worse, none at all—makes it all the more likely they'll keep on scrolling.
For some help, here are some of our best articles on crafting top-performing copy:
Use your description to tell a story. Give context about what your broadcast is about and be sure to make it clear why people would want to watch.
6. Tag other people and your location
Leverage the tag options for your Facebook Live video to increase your chances being discovered by new viewers and building engagement.
For example, if you're interviewing an industry influencer in your Facebook Live stream, tag them in the video.
When you do, they'll show up in their followers newsfeeds — increasing your video's reach and drawing in new audiences.
Also, when you tag your location, you personalize your post by letting audiences know where you are and what you're up to. For example, you might be at an industry conference. Let your audience know that! It provides context for your Facebook Live.
7. Remember people might join part-way through
Not everyone will join your live stream right away. Facebook says they prioritize videos more than three minutes long "that inspire people to continue watching."
So don't be afraid to make your video a little longer. Give your video a great intro, and don't try to cram everything into the first couple of minutes, since some people might miss what you say.
If you're interviewing another person, a classic radio interview technique can help create context for people who join your live video in progress. Every so often, say your guest's name at the start of a question to let viewers know who you're talking to without disrupting the flow of the conversation.
A brand watermark or branded background can also help make sure people have some context for what they're watching as soon as they join your live stream.
This is another reason why it's important to write a compelling and informative description of your video, and also leverage the tagging features mentioned before.
8. Engage with your audience
As with any kind of social content, engagement is key on Facebook Live video. Facebook recommends saying hello to commenters by name, then responding to their comments.
It can be tricky to keep up with audience comments if you're the one hosting the video. If possible, assign someone to respond to comments as they come in, so you can focus on speaking. This person can let you know if there's a question you should answer live, or can point people to relevant resources in the comments.
Think about what resources you might need in advance so you can have a list at your fingertips as the questions start to come in.
To encourage engagement, try pinning a comment that asks viewers a question relevant to your video content. Just write your comment, post it, then tap it and tap Pin this Comment.
9. Reuse your work
Your live video remains visible on Facebook after it ends. But you should consider editing it into one or more shorter videos that highlight certain key points or great moments.
You can then share these as regular Facebook videos, or post them to other social networks. This ensures you reach people on the platforms they use, rather than forcing them to come to you.
That said, when you share your video on other platforms, you can mention that the content comes from a Facebook Live stream and encourage fans to follow you on Facebook or sign up for Live video notifications if they want to be the first to see your new live video content .
10. Go live on a regular schedule
The Facebook algorithm considers "how frequently viewers return to watch your content and how many you retain on a weekly basis."

That means broadcasting live on a regular schedule will encourage viewers to return regularly, since they know what to expect from you and when.
10 engaging Facebook Live video ideas
Now that you know some great best practices for Facebook Live, let's take a look at some great video ideas.
Use any and all of these ideas if you're looking for some inspiration and want to give your audience some great and engaging content.
1. Holidays, trends, and special events
Jumping on a trend is a great way for your brand to dive into the conversation.
This could be a holiday, a topic making headlines, or the latest meme! As long as it's relevant and useful, you can make it the focus of your live stream and people will tune in.
International Women's Day provided a great reason for London's The National Gallery to dive into the history of a specific painting from its collection in a Facebook Live broadcast.
The video eventually got more than 27,000 views — an impressive audience for a nearly 12-minute, fairly academic discussion of one work of art.
2. Q&A and interviews
Facebook Live provides a great platform to interview an industry leader. Not only can you stream out the entire thing to your audience, but viewers can also ask questions via the comments.
This gives you an opportunity to engage your viewers by answering their questions and providing helpful content.
All you need is a host and a willing and interesting guest (or several). The audience can join in and ask questions in the comments, making the experience interactive.
Author and podcaster Adam Grant regularly interviews interesting people, from astronaut Scott Kelly to Sheryl Sandberg to Malala Yousafzai. He often shares these as live videos on his Facebook Page.
Adam's live interview with relationship expert Esther Perel racked up 164,000 views.

3. Breaking news and announcements
We mentioned before how important it is to jump on trends. That's what makes streaming news and announcements so great on Facebook Live.
Just like news organizations, brands can live stream breaking news — as long as the "news" is relevant to your audience, of course.
America's Next Top Model uses Facebook streaming to get fans involved with the show throughout the season. The platform was an obvious choice for announcing the top 14 finalists in the latest season.
After revealing the names of the finalists, Tatiana Price (runner-up from cycle 23) and Drew Elliott (one of the judges from the show), answered fan questions from the live comment stream. The 16-minute video has been viewed more than 160,000 times and got 1,500 reactions.
4. Performances and live events
Facebook Live is a perfect platform for streaming live events such as:
Conferences
Panels
Lectures
Concerts
Workshops
Doing so opens the experience to a wider audience — which is great if the live event you're streaming is produced by your brand.
Streaming live at events also helps boost that all-powerful FOMO (fear of missing out) factor, helping to build hype and anticipation for your next event. This is great if you want your followers to join you at another event later on.
The Centers for Disease Control regularly post live streams of important conferences related to their work and topics of human health — including this session on preventing childhood obesity.
Another great example comes from Dutch DJ Armin van Buuren. He created a Facebook Live stream showing almost four hours of his set from the Untold Festival.
The stream brought in more than half a million views and more than 6,000 shares, making it the most-shared Facebook Live video from a musician in August 2018.

5. Go behind the scenes
Behind-the-scenes content is incredibly popular — and for good reason. It gives your audience a peek at what goes into making the brand they love so much.
Facebook Live takes things one step further by giving the audience the opportunity to interact, ask questions, and influence the direction of the broadcast in real-time.
Bob Herzog, a host of Good Morning Cincinnati, is a dedicated Facebook Live broadcaster. He's gone viral with his Wake Up and Make Up Facebook Live videos, which show the less-than-glamorous behind-the-scenes aspects of being a newscaster.
His videos have attracted a whole new audience to his morning TV show. The station is now capitalizing on that connection with fans.
During commercial breaks, Herzog uses a Facebook Live feed to ask fans what they should talk about on TV in the next hour, creating incredible real-time engagement across platforms.
His videos get an average of 5,200 comments per week.
6. Product demos and tutorials
Hosting a product demo or a how-to tutorial is a great way to engage your followers — while showing off the products and services of your business.
Imagine you're a fitness coach. You can use Facebook Live to:
Show viewers how to do a new workout
How to mix a new health supplement you're selling
The best way to warm up for the gym
Homemaking mogul and ex-convict Martha Stewart is the master of this. Her cooking and craft projects are perfect for Facebook Live, and regularly get hundreds of thousands of views. The genius of her strategy is that each video is used to promote other products from the Martha Stewart empire—her TV show on PBS, her craft supplies from Michaels, or one of her books.
One Facebook Live cooking video in which she was joined by Jennifer Garner was viewed more than half a million times. The video promotes the latest issue of Martha Stewart Magazine.

The Martha Stewart team also does a great job of responding to fan questions in the comments, directing them to even more Martha Stewart resources and products.
7. Product or campaign launches
Announcing a Facebook Live video for the launch of a campaign can be a good way to build anticipation for whatever it is you plan to tell your audience. Be sure to tease the live-stream in advance and let fans know to tune in all the details.
Facebook's live Oculus Connect 5 keynote, showcasing the company's new VR gaming product called Oculus Quest, got more than 300,000 views in the first four hours it was online.
8. Host a regularly scheduled live show
With the introduction of Facebook Watch, Facebook is encouraging the creation of regular video programming and going after exclusive rights to live broadcasts.
While Watch might not be the best fit for all businesses, anyone can create a regularly scheduled Facebook page live video series.
Cheddar calls itself the first "post-cable" news network. They broadcast regular daily news shows on Facebook Live: Opening Bell in the morning and Between Bells in the afternoon.

9. Collaborate with an influencer
Facebook live is a great opportunity to bring industry thought leaders and influencers on board. Doing so spreads your brand awareness and helps draw in new audiences.
After all, these are recognizable people your target follower should already know and respect. When you bring them on it increases your social proof.
One great example of this comes from Jeff Adams, the host of the Facebook Live show Live Positive. Adams regularly brings on influencers and thought leaders to his show and his audience loves him for it.

Frequently asked questions about Facebook Live
How does the Facebook algorithm treat Facebook live video?
Facebook considers Live video a distinct content type from other video shared on the platform.
This distinction is important for brands because it means that the Facebook algorithm treats native video and Live video differently, with Live videos more likely to appear higher in News Feed while they're live. Live video is identified with a red Live icon in the top left-hand corner of the video.
After the broadcast, the video can still be discovered and viewed, but once it's no longer live, Facebook will treat it like any other video. However, keep in mind that the algorithm favors content that "spark conversations and meaningful interactions between people."
Live videos typically see six times more interactions than other videos. These higher engagement rates could be a good signal to the algorithm.
Facebook Live video also has its own notification system. When a person or Page starts a Facebook Live feed, people they frequently engage with or have recently interacted with may get a notification. Viewers can choose to subscribe, which means they'll be notified any time that broadcaster goes Live.
Where do Live videos appear on Facebook?
Live videos appear in viewers' newsfeeds and on the page or profile of the person recording the video.
When the broadcast is over, the video will appear on your page or profile, just like a regular video, unless you have set it to broadcast only to stories.
People who engage with you often by liking or commenting on your content may receive a notification when you go live.
How long can you record live on Facebook?
Facebook Live videos can be up to eight hours long if you're recording on desktop or four hours long on mobile.
You can choose a continuous feed through one of the publishing tools described at the end of this post that an offer a continuous 24-hour freed.
Do I have to broadcast from a mobile device?
No. You can also broadcast directly from your laptop or desktop computer. When you're first getting started with Live video, broadcasting from your mobile device or computer is the easiest option and requires no special skills or equipment.
Can I use professional video equipment with Facebook Live?
Yes. Once you're confident with your live video skills, or if you have a tech team to help you, there are options that allow you to use more professional equipment.
You can also use these methods to schedule Live broadcasts up to a week in advance in order to build up an audience before you begin streaming. When you schedule a Live video, an announcement will be posted to News Feed letting your fans know the broadcast is coming.
Users who see the post can choose to receive a notification that will remind them shortly before the broadcast begins. Fans can then join a pre-broadcast lobby where they can connect and interact with other viewers before the Live video starts. You'll also get a link you can share or embed on your website.
Finally, using these methods, it's possible to broadcast continuous live video. This offers a great option for users who may want to showcase a constant Live feed, such as a museum or zoo.
1. Facebook Live API (Pages only)
The Facebook Live API allows broadcasters to "seamlessly incorporate Live into their existing broadcast setup." This enables features like camera switching, instant replay, on-screen graphics, and special effects.
The API requires developer skills. To get started, follow the steps in Facebook's Quick Start Guide to streaming Live Video with the Graph API. Note that Facebook recommends a wired Internet connection (as opposed to wifi) for this broadcast option.
2. Live Video publishing tool for Pages (Pages only)
To use this option, you'll need tools (software or hardware) that support RTMP or RTMPS, such as Livestream or Wirecast. (If you're not sure what this means, it's a good idea to stick to broadcasting from your mobile device or bring in a tech helper to handle the details.) Once you have the tools in place, here's how to start your live video:
On your Page, go to Publishing Tools.
Under Videos, select Video Library and then +Live.
Click Connect to connect your software, then go to Post.
Target your audience and add your description.
Add a title and tags for your video.
Add your stream credentials, such as stream key and server URL.
Copy and paste the server URL and stream key into your software.
Click Go Live to begin your video right away, or Schedule to set your video up for a future date (up to one week in advance).
3. Go live with professional equipment from your news feed (profiles, Pages, groups, and events)
This tool is basically the same as the Live Video publishing tool for Pages, but is available to profiles, groups, and events as well.
From the Create post box on your news feed, click Live or Live Video.
Click Connect to connect your software.
Choose where your video will appear and add your description.
Add a title for your video.
Copy and paste the server URL and stream key into your software.
Click Go Live to begin your video right away, or Schedule to set your video up for a future date (up to one week in advance).
Streamline your Facebook marketing strategy with Hootsuite. From one dashboard you can schedule posts, engage your audience, create Facebook Ads, and more. Try it free today.
Get Started