Looking for a listicle to show you how to become Instagram famous in 10 easy steps? You won't find that here.
While the life of an Instagram influencer may look easy, there's a lot more to it than latte art and filtered sunsets.
And if there's one thing to learn from the burning trash fire that was Fyre Fest, Caroline Calloway's ghostwriter takedown, or even Millie Bobby Brown's skincare tutorial snafu, it's that the social currency of faking-it-until-you-make-it is pretty much spent.
In other words, social scams, fake followers, Instagram pods, and other hacks aren't going to fly—especially with recent changes to Instagram's algorithm. Instead, think real talk, representation, relatability, transparency, and good old-fashioned dedication.
So what does this mean when it comes to attaining Instagram fame for you or your business? We analyzed strategies and rounded up advice from several top Instagram influencers to give you 17 expert tips.
How to become Instagram famous
No shortcuts here. Follow these tips from influencers to learn how to get Instagram famous the authentic way.
1. Use a personal profile photo rather than a logo
Your profile photo is what Instagram members see before clicking on your story, interacting with your posts, or visiting your profile. With such high visibility, influencer LaShawn Wiltz recommends putting your best face forward.
"Instagram is a personal platform," explains Wiltz on her blog. "People come on Instagram not to be sold to by a corporation, but to be entertained. They want to know the YOU behind your account. Give them a person, not a logo. Personalize your brand."
Almost everyone who is Instagram famous uses a picture of their face as their profile photo.
2. Remember who your followers want to see (hint: it's you)
Carry that profile picture tip over to your grid as well.
People may follow influencers for their perspective, photography skills, parenting advice, travel hacks, and more. But ultimately, people want to see you.
Just ask influencer and entrepreneur Jenna Kutcher: "I noticed anytime I shared a photo with me in it, it did three times better than anything else," she shares on her podcast Goal Digger.
Kutcher is not alone in that finding. A study by the Georgia Institute of Technology and Yahoo Labs finds that photos with faces in them are 38% more likely to get likes on Instagram.
View this post on Instagram

We were riding on a bus back from the village, Coco was in my arms, playing with Sophie the giraffe and he asked me, "What has changed for you since becoming a mom?" I laughed, because it's like… EVERYTHING. I'm a softer version of my old self — physically, yes, but mentally, too. I'm more patient, less selfish, and I've discovered my knack for memorizing children's books and creating tunes for them and sit in dark rooms nursing my baby and cherishing that as time well spent. I stopped looking at my body as a measure of my worth and started seeing it worthy of a miracle. When I see my baby girl as whole and perfect and strong, I am reminded that my maker sees me through those eyes, too. I smiled and told him, "When we were envisioning our futures and writing down goals last night, I wrote down the words: I want to feel freedom, presence, and rest." I didn't see a business, I saw my baby when I closed me eyes and dreamt up success. I didn't write down metrics or numbers or create an invisible ladder for me to climb, no, motherhood has made me chase less of that, but instead lean into a feeling of contentedness that I've never experienced before. This is the best version that I've ever been and I'm so thankful YOU are here to watch me unfold. I've changed, yes, but I love who I've become. ✨ #aeriereal
3. Keep your bio fresh
It's easy to forget about your profile bio after writing it, but that would be a mistake says LaShawn Wiltz.
On her blog, Wiltz says: "Your bio is the first thing people see. Your bio should give [people] a clear concise idea of what your account is about."
Tell new visitors who you are, what you do, and what you like to share. Add colour and save space with evocative emoji. Wiltz suggests adding keywords, but to make sure to "weave these keywords naturally into your bio."
Working on a new project? Drop the link in your bio.
If you're a travel influencer, tell people what country you're currently travelling in. Doing this tells prospective followers what kind of content they can expect from you, and keeps current followers informed on your latest updates.
Read more about how to write the perfect Instagram bio.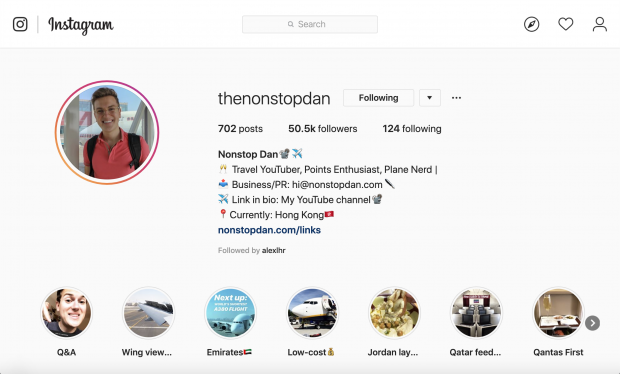 4. Find your niche
When it comes to the content you share on Instagram: Do you. Why? Nobody else can.
"Find what you're most passionate about sharing," says Laura Izumikawa who chronicles motherhood on her account @lauraiz.
"Use your passion or what you're gifted in and document it with photos and videos."
Define and share what matters to you, whether it's a penchant for potato chips, expert financial advice, or advocacy for topics like body positivity or climate change.
Staying true to you isn't just a matter of differentiation—it gives you stamina as well, says @parisinfourmonth's Carin Olsson in an Instagram Story: "I think it's really important to do something that you're passionate about because I think it'll always be hard to work and keep motivated if you're not passionate about what you do."
5. Define your ideal audience
Who are you hoping to connect with on Instagram?
Once you've found your niche, it's important to reflect on who you think would be interested in it, says Jenna Kutcher on her blog.
Kutcher describes her ideal follower as likely a woman in her mid 20s or 30s with a big heart, big dreams, and willingness to bet on herself. Her followers are women who may relate to her experiences with infertility or body insecurity, or find motivation from her business expertise.
Like Kutcher, you don't have to limit yourself to one attribute or schtick. Share as many experiences, hobbies, or topics as you like. But remember, some followers may connect with some aspects more than others, so aim to provide balance.
"Whatever facet [my followers are] there for, I want to ensure that I'm reaching [them]," explains Kutcher. "To ensure that I'm doing this, I want to make sure that I'm hitting my big topics frequently."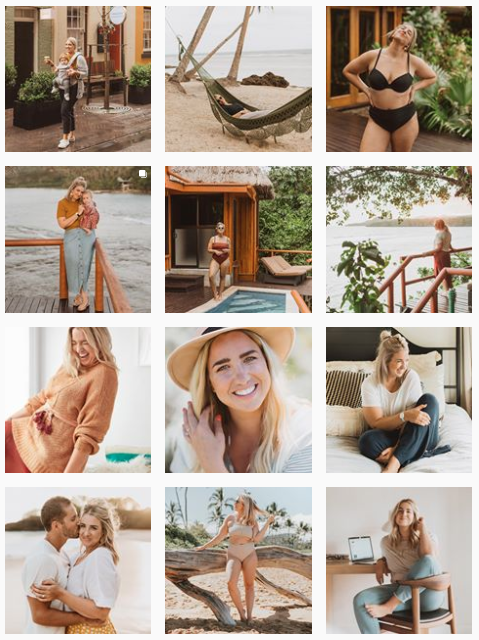 6. Be open and transparent
If you want to make real connections on Instagram, you can't be fake. "The most important thing is vulnerability and honesty," says Laura Izumikawa. "People are on social media to connect—or at the very least—relate to others. Being open and transparent will go a long way to help you connect with your audience."
One meaningful connection is worth a lot more than 100 fake followers—literally. Devoted followers will stick with you over time, trust your brand partnerships, and are more likely to regularly engage with you.
7. Invite engagement with calls to action
While follower counts matter, engagement rates are the real currency of the influencer community. And if you're looking to boost engagement, sometimes all you have to do is ask.
"A lot of the time we're not even inviting engagement," says Jenna Kutcher on her podcast Goal Digger, "and if you look at your own user habits, you're likely just scrolling."
Kutcher recommends that before posting, reflect on the action you'd like someone to take when they see your post.
Want more likes? Ask followers to double-tap if they share a certain conviction. Looking for comments? Try asking a question. Want followers to click the link in your profile? Tell them why they should.
8. Return the engagement
Whether or not you're willing to ask for engagement, be prepared to return it. After sharing a post, stick around to respond to comments.
"When people see that I am online and commenting back on comments, they are far more likely to engage with my post," says Kutcher.
No good relationship is strictly one-sided. Like and comment on your friends' and followers' posts, too. The more you connect with people on Instagram, the more reciprocity you can expect. Plus, the more authentic the relationship, the more likely it is to be favoured by the Instagram algorithm.
9. Find good sources of inspiration
The hardest part of being Instagram famous? Creating enough content to meet the demands of a 24/7 audience.
To keep the creative juices flowing, influencers like Montreal-based graphic designer Audrey Rivet turn to several sources of inspiration.
"I try to find an influence on Instagram, fashion/lifestyle blogs, Pinterest, Behance, and magazines," says Rivet on her blog.
Menswear influencer Diego Gonzalez-Zuniga, aka @diegodowntown, also cites Pinterest as a source of inspiration.
Rivet doesn't shy away from sharing the love either. If there are influencers who inspire her on Instagram, she'll often share their posts in her stories. Equal parts savvy and sincere, when reciprocated, the gesture has the potential to increase her exposure with a similar audience.
10. Plan ahead
Staying organized and planning content in advance can make being Instagram famous significantly more manageable.
"Planning my future posts and subjects is also a good way to put things in order and see more clearly when crisis strikes," says Rivet on her blog. "It's all about organization!"
Start with a calendar. Knowing what's coming up allows you to be prepared to make the most out of moments and events. It also helps you spot any gaps that may need filling and ensures that you'll have enough content to post consistently (at the right time).
With posts prepared, you can take advantage of time-saving tools like Hootsuite's Instagram scheduling feature and spend more time offline.
To maintain a certain feed rhythm and aesthetic, Rivet uses UNUM, a tool that allows her to visualize posts on her profile before publishing them.
"When I have empty spots, I usually test with a few inspirations I've saved on Pinterest to see if a certain composition would fit great," she explains.
11. Choose brand partnerships that fit
Brand partnerships are a significant source of income for Instagram influencers. And for those aspiring to be Instagram famous, they can be a source of exposure, too.
As both an influencer and a businesswomen who's worked with influencers, @ohjoy's Joy Cho offers sharp insight into partnerships. For businesses, she says: "Make sure you can really imagine that person using what it is you're going to send them."
If an influencer passes, don't take it personally.
The same advice holds for influencers deciding which brands to partner with. "When considering brand partnerships, you must consider your audience and how the partnership will add or take away from your brand," says Laura Izumikawa.
Don't be afraid to say no if it's not a good fit. "I often turn down brand partnerships because I do not like the product, or it doesn't fit with my brand," Izumikawa adds.
Also, don't always wait for the right brand to come to you. If you see a brand that you love and you think your audience would love too, reach out to them with a professional brand pitch.
And make sure to read our guide to Instagram influencer pricing before striking a deal.
12. Don't overdo it with sponsored content
Even if you've found the right partners, there's a limit to the amount of sponsored content an audience is willing to put up with.
"Personally, I try to keep my brand partnerships and sponsored content well spread out," explains @LeeVosburgh, influencer and founder of Style Bee.
Too much sponsored content doesn't just test your audience's patience, it could also lower your influencer stock with brands. "When an influencer has sponsored posts back to back to back there's a good chance they're not terribly discerning when it comes to the brands they work with and their audience will notice too," Vosburgh says.
13. It's okay to define boundaries
Audiences may crave the raw, uncensored, and unfiltered side of you, but that doesn't mean you have to share it. Especially if doing so makes you feel uncomfortable. Or maybe you feel like your most authentic self when dressed to the nines, and that's okay, too.
Take it from travel and lifestyle influencer Sarah Babineau. "Just a friendly reminder that all your angles are a beautiful and valid version of you. But you have the right to decide which ones make you feel prettier and show those ones to the world," she says. "And it doesn't make you less of a body positivity advocate or less of a feminist to do so."
Chest dresser-upper Rainier Jonn (@thedressedchest) makes a point to never show his face in his photos. He even keeps the boundary clear in his Instagram story AMAs (ask me anythings), offering: "Ask me anything not related to my face."
There's no social obligation that requires you to bare your body, soul, or secrets if you're not up for it. Same goes for defining boundaries for personal relationships.
"My family life is private to me and I do limit what I share," says Laura Izumikawa.
14. Don't let haters get you down
Haters are always going to hate. But that doesn't make it less challenging to handle bad vibes and harassment on Instagram when it happens.
Emily Schumann, influencer and businesswoman behind the blog-turned-brand Cupcakes and Cashmere, has some words of wisdom for when it comes to dealing with negative people.
"When they're constructive and from actual accounts (and not just trolls), I try to listen to what they're saying and be open minded," she shares in an Instagram story.
"For those comments that are simply said to be mean, I remind myself that the person is most likely projecting their own insecurities and it's actually not about me. Plus compassion helps," she adds. " Anyone who takes the time to try and hurt strangers on the Internet is probably not in a secure, content, place in their life."
Entrepreneur and Instagram influencer Myleik Teele shares a similar sentiment: "If people are checking for you they don't HATE you, they're upset with themselves because you succeeded in spite of the excuses they made for themselves," she says in her Instagram story.
15. Remember to disconnect sometimes
Forget "pics or it didn't happen." Even if you're Instagram famous, there is life outside of Instagram. Spending some time offline can help you recharge, stay grounded, and healthy.
"I think the most important thing is to be able to disconnect from time to time. To not be online or connected all the time. To have moments where you just enjoy and relax," says @parisinfourmonth's Carin Olsson in an Instagram story. "For me it's all about balance."
16. Keep mental health top of mind
While the Instagram famous life looks glamorous, it can often be lonely. That's especially true for those who work from home or travel often.
"I know many nomads that appear to 'have it all' who suffer from depression and anxiety because of this lifestyle," says Tameika Gentles, influencer and cofounder of The Whole Experience Retreat. "I actively focus on my my mental health while on the road, which is one of the reasons why I prioritize my health so much."
Find time for whatever helps you stay healthy, whether it's meditation, therapy, or spending time with your family. Some of these mental health tips for social marketers might help too.
17. Don't take yourself too seriously
So now you're ready to become Instagram famous.
But remember, don't let all your social clout go to your head. As Sarah Jane Adams says, "The day you start to believe your own bullshit is the beginning of the end."
Becoming an influencer on Instagram is a legitimate career path and/or income generator, but it's important to remember that your offline relationships and goals are important too.
Plus, the more you keep one foot in "real life", the easier it will be to create relatable, engaging content, and connect with your audience—who also live most of their lives offline, and don't receive instant feedback on their actions from thousands of devoted followers.
Manage your Instagram presence alongside your other social channels and save time using Hootsuite. From a single dashboard you can schedule and publish posts, engage the audience, and measure performance. Try it free today.
Get Started