Good Instagram post ideas promote your brand.
Great Instagram post ideas promote your brand and engages your followers—all while giving them something they can't help but share with others.
But it's not enough to just post any picture or video. You need to separate yourself from the pack and give your followers unique and creative content they can't get anywhere else.
That can be hard—especially when you consider more than 95 million photos and videos are posted each day to the app. So what can you post to Instagram each day that'll engage your followers?
We've compiled a list of 15 creative and engaging Instagram post ideas. It doesn't matter if your brand is big or small. Use this list whenever you need a burst of inspiration for your Instagram feed.
15 creative Instagram post ideas
Below is our list of 15 creative Instagram post ideas. Remember: You need to post intentionally. Don't feel pressured to post every single idea on this list.
However, if the post idea fits your brand and you think you can really knock it out of the park, go for it!
1. Ask your users a question
Asking questions creates opportunities to get your followers sharing their thoughts and ideas on practically any topic. These user insights can help you come up with even better content in the future.
They might even help you come up with new product ideas if you ask the right questions.
For example, if you run a fitness coaching business you might ask, "What do you struggle with in the gym?" The answers your followers give you help formulate a ton of new content — from new products, Instagram posts, and more.
2. Show a tutorial
View this post on Instagram

Back is and always will be my favorite workout day. Nothing makes me feel better, not chest, not arms, and sure as shit not legs lol #whodoesthat . To build a great back, time under tension becomes important. If you're not putting your muscles under enough stress and tension, they won't grow. . Here, I'm doing Lat Pulldowns with a controlled eccentric (lowering part where my hands go up), no rest at the top, a hard squeeze on the concentric part (the Pulldown), and I'm flexing the bottom part of my lats hard as shit for one second at the bottom. . Control + execution = growth and development. Give it a try and tell me what your favorite back exercise is. #beachris . . . #fitness #alwaysoptimal #splooshfactory #fitnessgoals #personaltrainer #model #nyc #nutritioncoach #malemodel #nutritiontips #fatlosshelp #7packabs #iamgroot #getfit #motivation #xbox #gamer #playstation #croatia #stressmanagement
Great digital marketing provides viewers and readers with valuable, engaging content. That's why tutorials or how tos crush it on social media.
Instagram posts give brands an opportunity to provide quick tips on almost any topic. For example, in the post above, fitness coach @thechriscoulson shows his followers how to do a perfect lat pulldown.
You also see this concept in practically any food Instagram account, like @foodminimalist. She provides her followers with delicious recipes accompanied by a great photo of the dish with each post.
View this post on Instagram

Sautéed Harukei turnips + greens with noodles in a deliciously sweet and salty soy-butter sauce, topped with sesame, scallions and shichimi togarashi. Harukei turnip and greens are both tender, delicately-flavored and almost juicy. If you're not a fan of turnips, these sweet little Harukeis may change your mind! For Boston-area friends, get the best Harukei turnips from the lovely people at @assawagafarm (Brookline or Union Sq. Farmer's Market!) __________________ Serves 2-ish: Clean and separate a bunch of turnips (about 5-6) from the leafy green tops, reserving if they're green + vibrant enough to eat. Discard if greens are sad and wilty. Cut turnips and greens into bite-sized pieces, keep separate. __________________ In some neutral oil, sear turnips in a hot cast-iron pan on med-high heat, cut side down. Cook undisturbed until golden brown, turn and sauté for another minute or so. Remove from heat and set aside. __________________ Turn the heat down to medium-low. Add 1 Tbsp soy sauce, 1 Tbsp unsalted butter and 1 tsp. sugar to the pan, stir together until butter has melted and sugar has dissolved. Add in your preferred amount of cooked thin sturdy noodles (soba, spaghetti, angel hair, spaghettini, etc. but not rice noodles!) and use tongs to gently toss the noodles with the soy-butter sauce. While tossing the noodles in the sauce, also add in the turnip greens, a handful at a time and use the heat of the noodles/pan to gently wilt the greens. When all the greens are wilted and sauce is thoroughly combined with the noodles, add in the reserved turnips and toss until warmed through. Taste and add a bit more soy sauce and butter if you prefer. Transfer to serving plates, top with sesame seeds, sliced scallions and a generous sprinkling of shichimi togarashi.
Imagine different tutorials that your target audience will love—even if they're not fitness- or food-related.
3. Go behind the scenes
Want a great way to humanize your brand? Just show your followers what goes on in your office. By letting your followers in on what goes on behind the scenes, you help them emotionally invest themselves in your company.
And no, don't just snap a photo of a bunch of sleepy looking faces at a dreaded 10 am Monday meeting.
Show off the fun side of your workplace.
It could be anything from an employee working at their desk, an office dog lounging on its bed, or even a Bollywood-style dance number starring the entire office.
Take a look around your office. Ask yourself, "How can I show off this workplace to our followers?"
4. Conduct an AMA
AMA stands for "Ask me anything". An AMA is a great opportunity to directly engage with your followers. It can also be a way to share thought leadership on any topic related to your brand and build engagement.
It's simple: Make a post soliciting questions from your followers and start answering them in the comments below. While your followers can ask anything, you luckily don't have to answer everything.
This Instagram post idea is especially great if you're an influencer, or if your company has someone who is a thought leader in your industry.
Speaking of thought leadership …
5. Share valuable thought leadership
Sharing thought leadership is a great way to establish your brand as a leading source of great ideas and trends.
Thought leadership often comes in the form of great tips, hot takes, or lessons on a topic. Once you share it, your followers look at your brand as a reliable and relevant source of information. That's great for engagement and brand authenticity.
For example, personal finance and development expert @ramit often takes to Instagram to share a lesson or piece of insight with his followers. In doing so, his followers know to trust him as a source for personal finance knowledge.
If you're not a thought leader, that's okay! You can still share great insights from thought leaders to your readers by doing our next tip …
6. Conduct an interview with an industry leader
Sharing insights from leading innovators and thinkers in your industry helps your followers immensely. And if you pick a big name in your industry, the Instagram post can draw in new followers and build more engagement.
And you don't have to get the thought leader in front of your phone camera to do it. You can share a snippet of a podcast or YouTube interview you did with them.
In the example above, Matt Anderson of the The Road Not Taken Podcast interviews Matt Lebris on his best lesson in business. He provides a creative Instagram post for his followers.
7. Jump on a trend
Trends, memes, and challenges are great ways to inject some fun and relevance to your brand.
Great examples of this are the bottle cap challenge above—or this one where @Ellen did the mannequin challenge.
Of course, you should avoid any of the ones that could hurt you or otherwise harm your brand, like the challenges that require you to eat laundry detergent or unholy amounts of spicy foods.
You can also share a funny meme or—if you dare—create one for yourself. If you choose to do the latter, you better make sure it's good. Otherwise, you're going to fall into /r/fellowkids territory (when a brand tries to relate to modern trends but fails miserably).
8. Share user-generated content
A sure-fire way to engage your followers while showing them some appreciation is by sharing the content that they made themselves—especially if it showcases projects they finished by using your product.
A great example of this is @adobe (see above). They often share designs, photographs, and other projects their users finished by using their editing software.
@Apple also does a great job of this with their #ShotOnAnIphone posts where they encourage users to share their iPhone photos and videos on Instagram using the hashtag.
Directly crowdsourcing posts and engaging with your followers is a fantastic and easy way to create content for your brand's Instagram feed.
9. Create a photo collage
This is a fun one, but a little tricky to pull off.
Create a large picture on your Instagram profile page using individual Instagram posts. Think of it as nine Instagram post ideas in one.
The above example from @truedotink showcases how they used their Instagram profile to create a photo that promotes their digital product.
To get started, use an app like Layout from Instagram or software like Photoshop in order to take an image and cut it up into separate images to post.
If you want to get very ambitious, take notes from @jppm.fr. They created a "never-ending moodboard" that continuously builds on the last set of posts.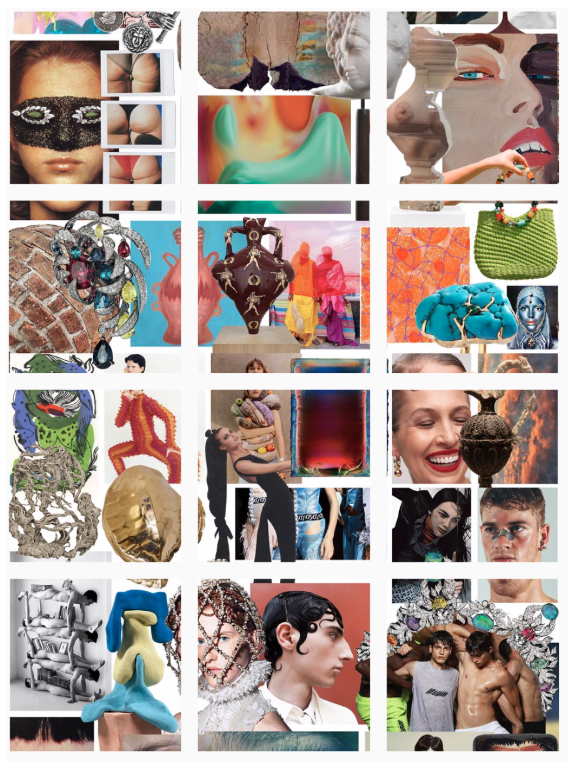 10. Use a daily hashtag
Daily hashtags are hashtags dedicated to specific days of the week—and they're a great way to build engagement with your followers.
They also offer a massive well of Instagram content ideas you can draw from. That's no joke. In fact, here's 40 daily hashtags you can start using for your Instagram posts today.
The most popular of all the daily hashtags is definitely #throwbackthursday or #TBT. As of writing this, there are nearly 9.6 million #TBT posts on Instagram. Every time you post using the hashtag, you have the opportunity to jump on this trend and open yourself to a wider audience.
That means using #TBT helps you:
Increase engagement
Increase your followers
Improves your brand awareness
For more, check out our article on how to use #TBT in your posts.
11. Share your mistakes
Want a great way to humanize your brand? Humans aren't perfect. Don't shy away from admitting the odd failure.
No, you don't have to share details of a litigation process if your company gets sued or an angry client email from a screwed up order. Instead, show the small mishaps that might happen around your workplace—and add some levity to it!
Maybe you own a bakery. Show the results of that batch of cookies you left in the oven for way too long.
Or perhaps you own a marketing agency. Show off that one newsletter you sent out with a typo on it and how crazy that drove you.
However, the most important thing is that you show off your mistakes and then show how you made it right. Only then can you build trust with your followers while humanizing your brand.
12. Give a before and after
Before and after photos show your followers the true impact of your brand. Viewers see how exactly your work changes and benefits clients, which is fantastic for engagement and audience building.
These photos come in many different types too! You can show a before and after of your company's logo to show how it has changed over time, a photo of your old office and new, or you can show a photo of the number of employees you've added to your team over the years.
Of course, if you have a product or service you offer, you can also show that off using before and after photos. The sky is really the limit with this type of content.
13. Crosspost from other social media sites
Crossposting is when you take content from other social media sites such as YouTube or Twitter and put the content on Instagram.
This comes in the form of either a screenshot of a tweet or reuploading a photo or video from YouTube or Facebook.
In the above example, Wendy's crossposted a tweet over to Instagram using a screenshot. That's a common method employed by the likes of @ramit.
And @hankgreen.
14. Share an action shot
A great way to show off your company is to show your employees hard at work. It can give your followers a fascinating insight into how your brand creates awesome products and services.
Are you a fitness trainer? Get a picture of you working with a client.
Are you a coffee shop owner? Get a video of your barista making an awesome looking latte.
In the example above, tattoo artist @heathrave shows his followers him at work laying down some sweet ink on a client.
15. Show an influencer using your product
See an industry influencer using your product or services? Share photos and videos of them as an Instagram post!
This Instagram post idea is going to take more work than some of the others, but influencer marketing is a great way to build your brand by relying on the social proof. When people who your target audience knows and trust use your products and services, they help drive more people towards your brand. And that's priceless.
For more on the topic, be sure to check out our article on influencer marketing.
Put some of these Instagram post ideas to use alongside your other social channels and save time using Hootsuite. From a single dashboard you can schedule and publish posts, engage the audience, and measure performance. Try it free today.
Get Started