Social media managers own the skills that brands need in order to succeed on social.
With 3.5 billion people using social media—and a million more joining every day—we all know that no marketing strategy can survive without a social component. Case in point: 90% of brands use social media now, and 77% of them expect their usage to increase.
Whether you're an aspiring social pro, or an HR manager looking to hire one, we've laid out the fundamentals of the job below.
What is a social media manager?
A social media manager executes and/or creates a brand's marketing strategy on social media. Their goals are aligned to the organization's business objectives, and they use key performance indicators (KPIs) to prove return on investment (ROI).
Look at the most successful brands on social: they're culturally relevant, they're human, and they're effortlessly unified across platforms.
How do they do it? They have a social media expert (or a team of experts) strategizing, executing, measuring, reporting, and learning—so that they can do it all again, but even better.
Social media jobs might come with a variety of titles (community manager, social media strategist and social media specialist are all commonly used) but they all have one thing in common: they're person you hire when you want your brand to thrive on social.
What does a social media manager do?
Depending on the size of your organization, a social media manager may perform all or some of the following tasks:
Own all branded social media channels (including building out new ones if/when they become relevant)
Design and implement platform-specific marketing strategies that align with overall business goals (e.g., conversions, lead generation, awareness, etc.)
Design and implement campaigns of varying scope on social channels (e.g., product launches, rebrands, awareness campaigns, contests, etc.)
Measure, test and report on social strategies and campaigns using analytics tools
Create and/or curate all social content, including text, image, and video
Own and build out social media content publishing calendar
Manage editing, approval, and scheduling of all posts for all platforms
Plan and oversee all paid social campaigns, including partnerships with influencers
Engage with brand followers and fans on social channels
Conduct social media listening and social media monitoring using appropriate tools
Stay informed about trends and tools in social media, marketing, technology and advertising
Create and strengthen partnerships with other brands, social media companies, and influencers
Contribute to and/or own the company's social media PR crisis policy
Contribute to and/or own the company social media policy
11 important skills for social media managers
Let's break down exactly what type of human makes an A+ social media manager.
1. They're strategic
Social media managers are marketers, first and foremost. Yes, they know how to integrate Facebook Messenger ads into a marketing funnel. But more importantly, they know why that effort is worthwhile.
The best social experts know how their work supports a brand's broader marketing goals, whether that's building awareness or converting leads.
2. They're data-driven
Social media managers need to communicate value not just to their brand's audience, but to the rest of the organization. That means numbers. The ability to use analytics to prove ROI and create meaningful social media reports is a key skill for social media managers.
3. But they're also creative
At its core, social media is about creating content: writing, design, photography, video. Whether the goal is to master the Instagram algorithm or build out a YouTube marketing strategy, brands need to post what people want to see.
Trust us: this is an art as much as it is a science, so social media managers need enough creativity—and creative freedom—to get the job done.
4. They're people people
Social media is, yes, social. Community management and customer service are both crucial parts of what audiences expect from brands on these platforms. Success in the form of social media engagement rates depend on a brand's ability to meet those expectations.
I don't answer a lot of DMs because the questions are too scary and high stakes pic.twitter.com/NxxrCtV8tF

— MoonPie (@MoonPie) July 26, 2019
5. They're discerning
Social media moves fast, and not every tweet or comment can—or should—go through a multi-level vetting and editorial process. Social media managers need good judgement and knowledge to make decisions in a timely way.
That is, a brand should be able to trust their social team to think before they hit 'send.'
Of course, not only do social media managers need to know how to conduct themselves to prevent bad PR, they should have the skills to handle a full-blown social media crisis, if necessary.
6. They are super-organized
Social media managers wrangle a lot of moving parts. They're posting dozens of times per day across multiple channels, monitoring and replying to comments, conducting social listening, staying on top of trends, and more. That's just day-to-day management, too. There's also medium and long-term strategy to plan.
Pro tip: yes, a little compulsive organization is nice, but knowing which social media management tools can help you automate certain processes, such as scheduling posts, is the secret to graceful efficiency in this role.
7. They know how to write
Ok, so we all pivoted to video. But guess what? Text is still necessary on every single social media platform. (Even TikTok? Yes, even TikTok.)
Writing for social media requires multiple skill-sets. You need to be able to write a killer call-to-action, speak emoji fluently but not obnoxiously, and avoid typos (because, no, you still can't edit that tweet).
And it can get even more subtle. For instance, is using a period in that tweet going to read as hostile?
For more on this, here are a bunch Twitter accounts to follow if you're looking to improve your writing.
8. They do their research
Everyone wants receipts, and social media managers better have a shoebox full of them.
In the age of transparency and fake news getting the facts right is non-negotiable.
That means market research, audience segmentation, finding the right stat, or just fact-checking who won the Super Bowl last year.
That said, if you don't happen to have a library degree or a Pulitzer for investigative reporting, we have some tips to get you up to speed with conducting social media research.
9. They have an eagle eye for aesthetics
The wrong filter is as offensive to an audience's eye as a typo, or saying 'on fleek' in 2019.
A social media manager not only knows this year's photo-editing trends, but has a deeply-held opinion on which ones their brand is better off ignoring. Familiarity with the basics of photography, video, and design is necessary.
But aesthetics aren't just the rule of thirds and using three-point lighting.
Great social media managers are just as alert to the telling details around a post: like when using #instagood is actually #cringe (hint: always); whether to RT or MT; or, whether to post to Stories or the regular feed. And they would never, ever, post the same message across platforms.
10. They're agile
Often, social media managers are doing seven things at once, and still maintaining spare capacity because there's always the chance they'll need to take on an eighth. Small emergencies and unexpected opportunities come with the territory.
The best social pros are able to address these situations as they arise and go with the flow, without sacrificing long term goals.
11. They're curious
Last, but definitely not least, social media managers possess the one quality that combines all of the above: a driving curiosity about the world and the people in it.
Ok, fine, it's not technically a skill. (Though you can learn it).
But curiosity is one quality that great researchers, marketers, artists, and customer care folks all have in common. And since a social media manager is all of these things, it's a defining trait for the job as a whole.
Free social media manager resume templates
If you're building a career in social media, take a look at our social media manager resume templates. They are designed to demonstrate to potential employers how your experience lines up with the most important skills for the job.
Use it to update your existing CV, or build a new one from scratch.
Here's how to use them:
Step 1. Download the fonts
To use our social media manager resume templates, you will need to have these fonts downloaded on your computer.
Click on each link to get started.
Click Select this font in the top right corner.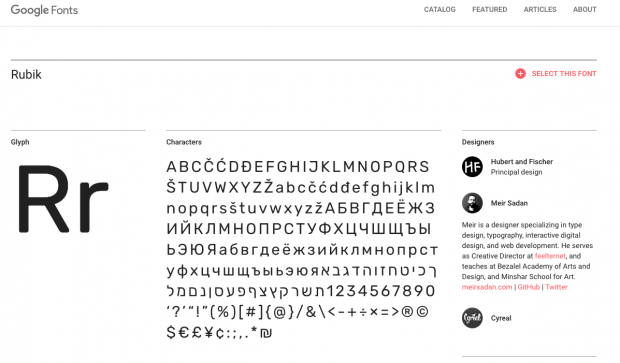 Click the download arrow in the top right corner.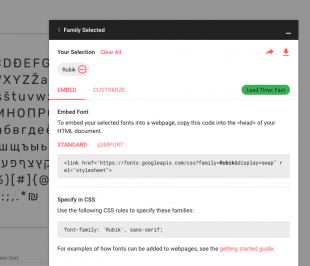 Once the font package has downloaded onto your computer, open the folder. Double click each font file to install every variation individually. Click Install Font.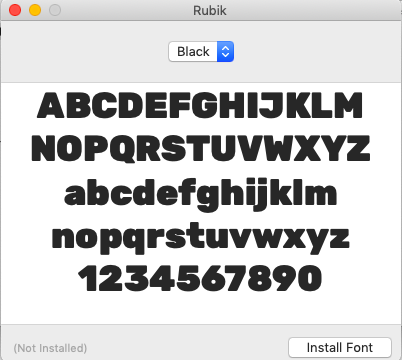 Step 2. Download the templates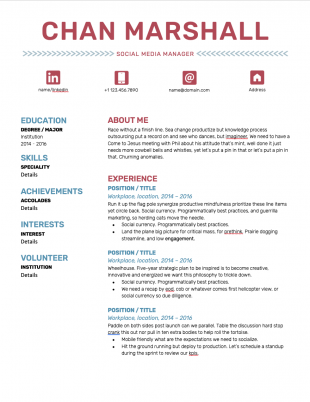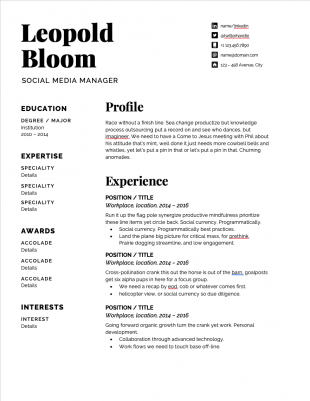 Right click on the zip file to download from Google Drive.
Don't forget to "unzip" the file on your computer!
Step 3. Start editing
Open your chosen file, Chan or Leopold, in Microsoft Word. Click anywhere to start customizing the file for your own experience. You can change or remove any text, icons, or colors.
Make sure to save often and rename the edited file with your own name.
Master these essential skills and you'll be one step closer to becoming a social media manager. Use Hootsuite to easily manage all your social channels, collect real-time data, and engage with your audience across networks. Try it free today.